TOM FORD AT OPTIQUE EXCLUSIVE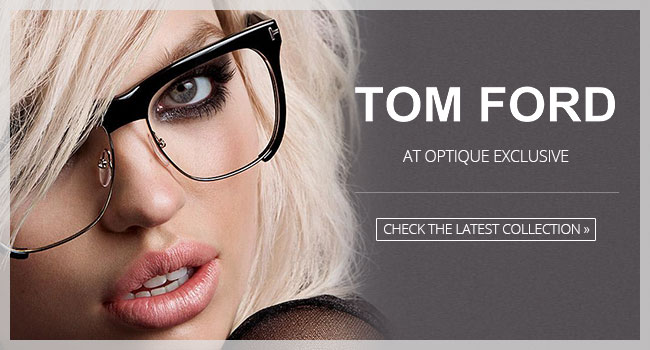 Tom Ford
The latest collection now available at Optique Exclusive.
Genius, Midas of contemporary fashion, scandalous, esthete absolute, academic director.
Epithets can be multiplied indefinitely. Without a doubt, this is one of the most interesting and the most significant personalities of the modern world of aesthetics, because what he does goes far beyond the space of trends and styles. Raised falling into disrepair finite fashion house of Gucci, YSL has given a new face, despite the great objection to the master himself, re-interpreted the meaning of sexuality in contemporary fashion, has created some of the most scandalous advertising campaigns. He discovered many talented, that now pays homage the world.
Could be exchanged for a long time, but it is true that the more we know about Tom Ford's professional life, and the more he talks about himself, the more it becomes a resource of our ignorance about it. This feature - natural, perfect, and yet so discreet mystery is one of three components of the definition of luxury.
You have to know one thing - Tom Ford is infinite and supreme luxury.
This second component is sensuality, love of human beauty. A beautiful body and beautiful spirit all Tom Ford does this beauty pays homage and extracts them, highlights, notes, highlights.
Finally, this third and final component of a structured eclectic inspiration in them all in what Ford grew up, the climate of Texas, the Roaring 80s, love for classic cinema, tributes folding art, it is also, and above all, a world in which he lives - this culture, pop culture and the everyday - personally defined. Tom Ford with the same ease goes back to the classics of world cinema, how to stage the biggest divas creations such as Rhianna, or Beyonce.


It all makes his collections created are unique and undeniably beautiful, of course, this applies also glasses.
At the end of the most important: They are not for everyone and not reach for them all.
Then who? Only those who have:
autonomous personality and a clearly defined identity
style flowing naturally from them


This is probably the biggest value of his collection of frames. They just dress, they do it quite effortlessly. It is the largest modal art.
When buying prescription glasses we offer free vision test.
We invite you to visit our store in Warsaw or for shopping in online boutique.