Eye test in english - Warsaw - Optique Exclusive

GOOD VISION - A KEY ASPECT OF HEALTH
The process of seeing is essential in our everyday life. From birth, through childhood to old age, our eyesight changes and is exposed to various environmental factors. Nowadays, each of us spends most of our time in front of digital devices such as computers, smartphones and tablets. This causes fatigue and tension in the eyes, which can cause vision problems. Regular check-ups and eye protection are essential to enjoy this precious gift of sight as long as possible.
PRECISE VISION EXAMINATION WITH AN OPTOMETRIST
In our optical salon you can not only choose the frames for yourself, but above all perform a professional eye examination with an optometrist. We wonder more than once who should perform a vision examination.
Ophthalmologist, optometrist, or maybe an orthoptician?
Ophthalmologist - a specialist in the diagnostics and treatment of eye diseases, also in the selection of prescription glasses and application of contact lenses, usually the first contact specialist when we are concerned about the appearance of eyes or the quality of vision. The ophthalmologist diagnoses and plans the treatment, he can also choose glasses or lenses.
Optometrist - specialist in refraction examination and supply of visual aids. Selects the optical correction of glasses and contact lenses.
Orthoptist - takes care of the diagnosis and rehabilitation of selected visual functions, especially binocular vision.
At Optique Exclusive Centre for Progressive Glasses you will receive professional advice on the selection of suitable prescription lenses and contact lenses.We will also advise you how to take care of your glasses, as well as your eyesight. We are aware of the importance of healthy and comfortable vision.
WHY IS IT WORTH CHECKING YOUR EYESIGHT IN OUR STORE?
Being aware that a correctly selected correction is a guarantee of good vision, we pay special attention to it. In our office there is the highest quality optometric equipment of the renowned brand ESSILOR, with the use of which our specialists perform a detailed eye examination.We also have the latest generation of Visio Office system, thanks to which it is possible to measure eye parameters in 3D technology. It is used to measure the Eye Rotation Center to obtain an individual parameter, which is used in personalized prescription lenses.This translates into the quality and precision of their execution. We also help people with high correction to choose their frames by taking pictures or recording a short film.
THE OPTOMETRIC EXAMINATION INCLUDES:
an interview with a patient

a visual inspection of the anterior segment of the eyeball

computer survey

a refraction to the distant

check for binocular vision

check the accommodation efficiency

a refraction to the near
OTHER IMPORTANT INFORMATION:
The optometrist takes the following hours (examination in Polish or English):
Monday to Friday 11:00 - 19:00, Saturday 10:00 - 18:00.
Our refraction room is located within Optique Exclusive, Centre for Progressive Glasses, Nowy Świat 6/12 Street (next to Starbucks Caffe at Plac Trzech Krzyży)
It is very important for us that the examination is conducted in a professional manner, so please reserve at least 30 minutes for it. 
If you wear contact lenses, please remove them about 30 minutes before your visit. It is also important to remember that stress, fatigue and sleep deprivation can adversely affect the test results.
To make sure that the examination is conducted at a time convenient for you, please contact us by phone: 22 622 20 05.
Regular price of eye exam is 159 PLN or 69 while purchasing prescription glasses with lenses.

OUR REFRACTION ROOM / EYE TEST IN WARSAW
Warsaw – Optique Exclusive Centre of Progressive Glasses, street. Nowy Świat 6/12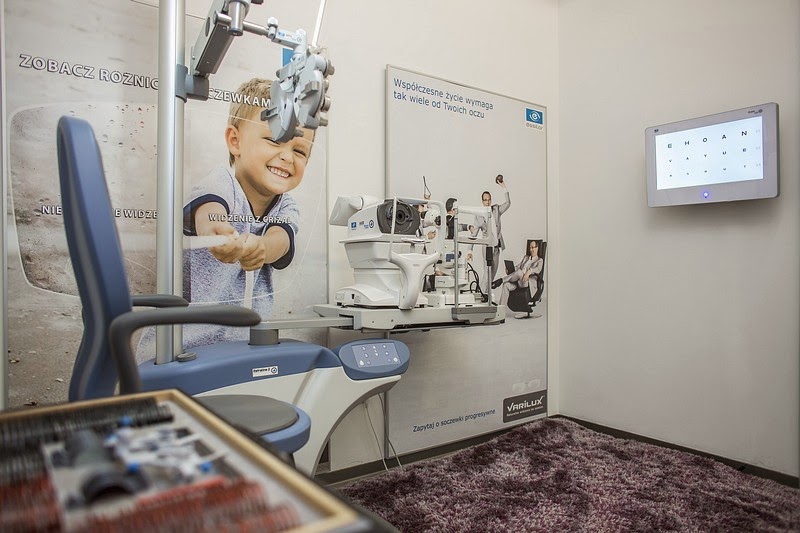 EYESIGHT PROTECTION
To fully protect your eyes, remember:
1. Regular eye examination. - in childhood according to the infant's state of health, on the eighth day of life, fourth, ninth and twenty-fourth months of age - after reaching the age of 18 every 12-18 months- At around 60 years of age, an annual eye examination with an ophthalmologist is important for early detection of potential diseases of the visual system, such as cataracts or glaucoma.
2. Correction of vision defects is the best solution adapted to the patient's needs.
3. Adopt simple habits that protect our eyes.- When working in front of digital devices, use glasses with a suitable filter. - Protect your eyes from UV radiation by wearing sunglasses with a suitable filter. - take care of a healthy and vitamin-rich diet.- take short breaks for long close up work by looking away.