ARMANI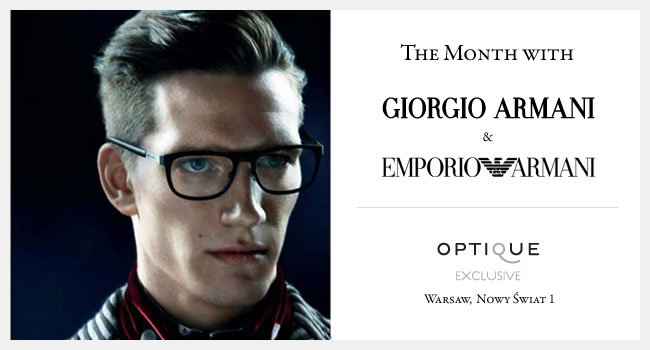 We begin the month with Armani! In Ferbruary all of our customers receive a 10% discount on the entire range of this exclusive eyewear brand.
The offer is valid only until the end of February.
"Elegance is not to be noticed, it being remembered."
Discover the trends according to Giorgio Armani. Buy the men's and women's collection Fall Winter 2013 online at Optique Exclusive. Few names in fashion conjure so distinctive a look. With the brand - a subdued, sensual, European kind of simplicity - delivered via almost any product imaginable to the modern fashion-conscious mind, Armani today is practically a way of life. Since the 1970s, Giorgio Armani has been consistent in his message of easy elegance. He has created a unique style, one that you can recognize without a label. From the moment "Re Giorgio" (King Giorgio, as the Italian press has come to call him) arrived on the scene with his radical new suits, menswear followed the Armani Way.  He is often crediting with having made the "Made In Italy" slogan synonymous with excellence in tailoring and design.
Check out the newest collection: here

When you purchase prescription glasses we offer free vision test!
In addition, each purchased at our store frames with prescription lenses coating/Crizal family are covered by Unconditional Guarantee Annual.
Today we invite you to visit our store in Warsaw or to shop online.
---
Terms&Conditions:
1) The promotion is valid on 01-28 February 2014 for the assortment of Emporio and Giorgio Armani.
2) Promotion applies to sunglasses and optical frames purchased together with optical lenses or for same frames.
3) Promotion is valid in Optique Exclusive store Nowy Swiat 1, Warsaw and online www.optique-exclusive.pl.
4) Prescription glasses at a promotional price only available in the stationary Exclusive Optique store.
5) In addition, when buying sunglasses or prescription frames with Essilor lenses with Crizal coating is valid Unconditional Guarantee Annual including all mechanical damage.
6) When purchase frames with lenses, for Customer is given the opportunity of free vision test.
7) The offer can not be combined with other promotions and discounts.